AKCliverbrownshihtzu.com
Chocolate is our Specialty!​
​AKC Shih Tzu Puppy Sale


(817) 291-8007​
Located Just 20 minutes
​from Downtown Fort Worth, Texas
Sophie and Samson Fall Nursery : 4 Pups came Oct. 9, 2020 Photos added here, but FB has albums
​
Photo
s and links to FB Puppy albums will be added here until Pups go home..when you see his photos added just click on FB album link below or paste in your address bar to watch him grow! Click on

Avail Pups/Waitlist

to see future planned litters and
availability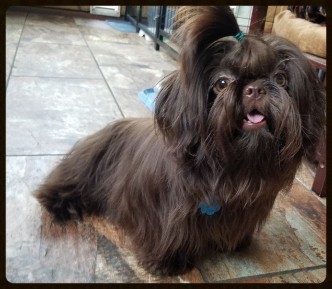 First 10 days

weight Chart

: healthy pups about double their birthweight by day 7-10
We temporarily named pups and Tail Tips painted with colored polish for easy ID​)
DOB:Oct 9 Day 2 Day3 Day 4 Day 5 Day6 Day7 Day8 Day 9 Day 10

Click HEREfor one of our several July 28 videos...

Congratulations on picks ( pretty sure everyone got their first choice, love that!) boys- Nadia H chose Slate (now Blocky), Sheryl W. chose Stone, and Carma gets Rocky (now Vinnie). Girls- Gwen F. chose Crystal and Carma gets Amber(now Velvet)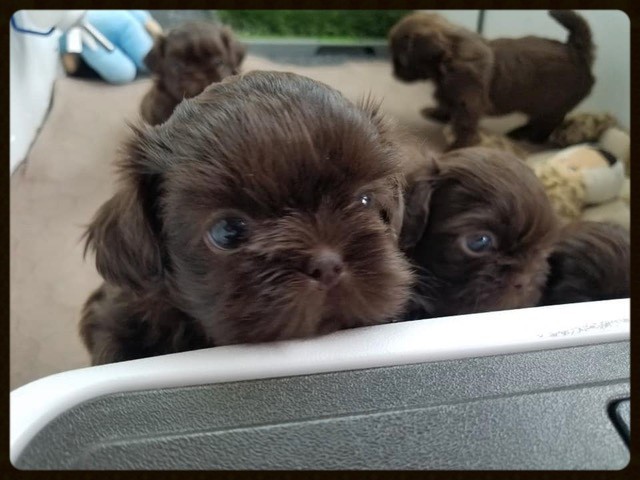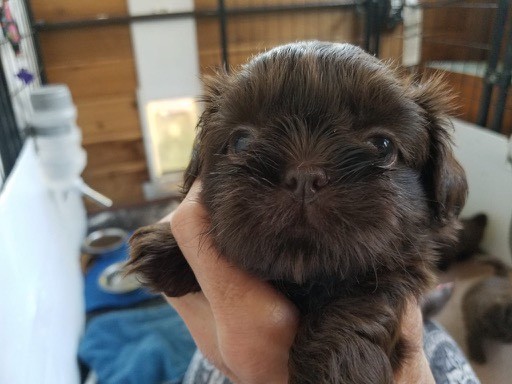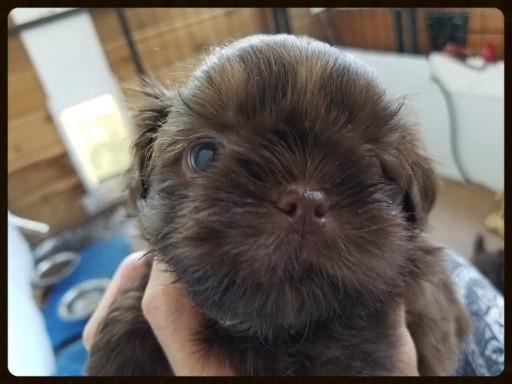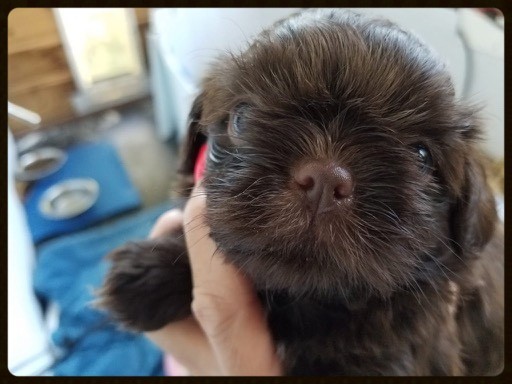 Carma's Rocky (now Vinnie)
Carma's Amber (now Velvet)
It's Aug. 6 and I'm very busy with growing pups..feeding throughout the day, cleaning their area and training them to the potty patch. I'm especially occupied socializing them several times a day to produce the sweetest puppies that are so calm when handled! Photos will still post on fb, so please use any link on this page to get updates possibly not reposted on this page. Time priority has me putting it into the
puppies in a big way and I can't always show all that we do. Thanks for your understanding. I will, however, post milestones, such as firsts, including first Vet exam.
Aug 8 started pups on dry food too..they have teeth and can nibble..click Herefor Aug 9 photos
Sophie pups Aug 10 evening after their face fur trim, paws buzzed, nails clipped Click HERE
Puppies are almost 7 weeks..they are almost fully weaned!! Here are some awesome photos of their first baths and
blow drys
Sophie Pups 3parts to album
Click
​HERE
HERE
HERE
Crystal (now Lexi) First Bath: Click HERE

Stone First Bath
Click HERE
Slate (Blocky) First Bath
Click HERE

Rocky (now Vinnie) First Bath
Click HERE
Amber (now Velvet) First Bath
Click HER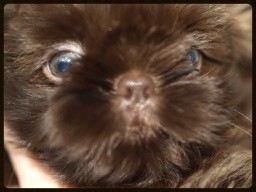 Click HERE for 7 weeks ALBUM
Vet Exam Part 1 Video: Click HERE
​​
Vet Exam Part 2: Click HERE
Our Vet Techs were so excited to meet your pups, they posted them to their website..I signed a release for them to be stars LOL Click HERE
Puppies are 8 weeks and have been fully weaned this week from Mama. They are all starting to go home, beginning with Blocky (Slate) It was a pleasure to meet Nadia at DFW this morning (Aug. 26, 2018) She was thrilled to be taking home the
fur baby she has been watching grow over the internet these past 8 weeks. Blocky flys back to Florida with Nadia this morning to be a surprise to the kids, what fun!!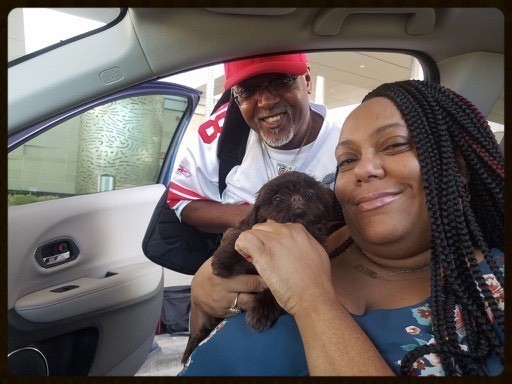 (I met Sheryl's daughter Shamarra and Sheryl's husband at Dallas Lovefield to deliver Stone (Dean) and Dallas (Sammy)...they are thrilled to finally have them!
11-09-18 Update on Blocky from Nadia:

​"Blocky had his first week of formal training and he looooooves its!!! He loves learning. He reminds me of my Rottweiler Bubba who was a fully trained protection dog....just dutiful and loved tasks. Blocky is so sweet so smart and so well adjusted. His trainer cannot believe that this small breed dog behaves so well and has such an incredible attention span. She said his breeder did an amazing job socialising him. She is blown away by his abilities ​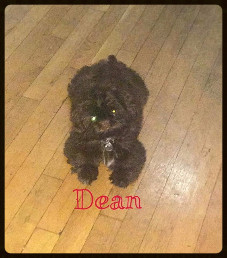 In October Sheryl sent this photo of Stone (now Dean) I believe he is about 4 most here
Lexi (Gwen's Crystal) Left with yellow Bow..right is Roux (Belle Yogi boy)..5 mos
Nadia's Blocky now 6
mos.
Can you find him below?​
Scroll way down on right side for past more puppies photos from SAME
​Parents!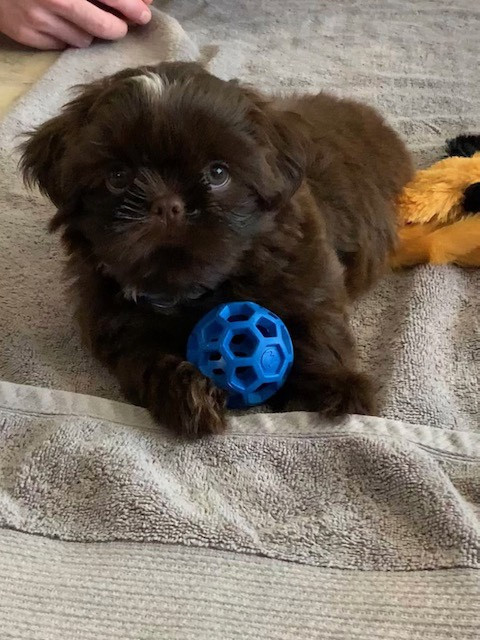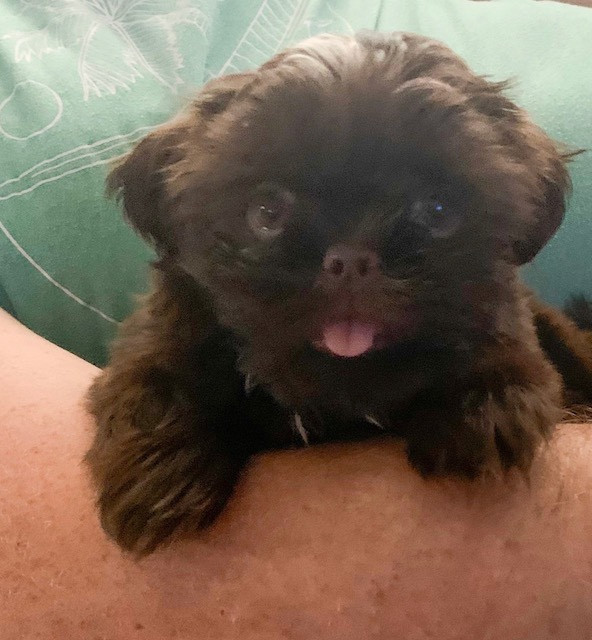 Day after Georgie went home to Houston Texas, Liz said:

​​"We are having so much fun!!! He's been eating his soft food and going potty on his grass! No crying at all last night. He's been amazing! Thank you so much!! We are beyond thankful and feeling so blessed!!! 💞💞🐾"🐾

​​
1st Male: Kevin S,
2nd Male: Debbie L.
3rd Male: Hayley M.
4th Male: Eve O.​​​
Turq (blue) 6.7oz. 6.9 7.2 8.3 8.8 9.2 9.7 10.8 12.5 13.2
Buckie (White) 4.2oz. 4.4 4.8 5.3 5.8 6.2 6.9 7.2 9.0 9.9
Randi (orange) 5.5 oz. 6.0 6.2 6.7 7.1 7.2 7.6 8.5 9.7 11.1
Cap​​​​​​​(plain) 4.7oz. 4.9 5.6 6.0 6.7 7.2 8.1 8.8 10.0 10.2
Sophie and Samson Past Pups