AKCliverbrownshihtzu.com
Chocolate is our Specialty!​
​AKC Shih Tzu Puppy Sale


(817) 291-8007​
Located Just 20 minutes
​from Downtown Fort Worth, Texas
​ With Belle...We got Beautiful solid Chocolate puppies! You can view their nurseries to see what this line will look like. Yogi has a solid dark chocolate undercoat with gorgeous Fawn/Sable accents that may or may not pass on to his future line through our three upcoming breeding females Chloe and Sophie retire after next litter. Chloe is also Yogi and Belles daughter.Looks like Yogi touched our lives and our line in many ways!!
​We were so excited to see sweet puppies from Sophie (Rosie's daughter) and kept two Jazzie and Sadie!..Click
Sophie's Nursery
page, this is Jazzie and Sadies's Dam
​

















About Yogi...We were so excited to welcome this little guy to Holland Shih Tzu..AkcLiverBrownShih Tzu! Yogi has a very sweet temperament..he would put his head on my shoulder when I held him and loved to cuddle!Now he sleeps with the daughter of his new family! Yogi is AKC Liver with a dark Chocolate coat that has FawnSable Accents he passed on to our Jazzie!! At first he appeared solid Chocolate and then all these beautiful accents appeared! He reminded me so much of our retired Rosie..and my jaw dropped everytime I saw his flowing Coat. He pranced through our home and yard like he knew his royal place among our other Shih Tzu. He last bred to Belle and gave us "Peaceful Victory" known as Tori for 2021 breeding to Samson, then Belle retired...he also bred to Sophie and gave us Jazzie and Sadie for our current breeding to
Samson and this first litter.
Yogi weighed aprox. 9 lbs .
With our free feeding he got to 12lbs as shown in all his later and recent photos. His parents are from small lines and are 6 and 6.5 lbs. We were getting low end of AKC Standard and continue to expect puppies in the range with our 8-10 lb from his daughters especially with 9 lb Samson who is also from a small line. Click anywhere his name is in a title of page to see his pups for
cuteness overload
!
Some Family Information (right side):
​ Sophie is Grandmother and Yogi Grandfather to these puppies!
​Yogi is Sire to Jazzie, Sadie and
​Tori. He has good AKC conformation
expecting pass of his genes onto our upcoming breeding of his daughters
to Samson​!!​
Yogi 5 1/2 months


Yogi's Sire: "Chuy" (6.5 lbs)
Capture My Heart's Give a Dog a Bone​
Yogi's Dam: "Lolipop" (6 lbs.)
Sweet and Sassy's Good Ship ​Lolipop
May 2015 Photos of our Sweet Boy! Now
he is retired..but his lines are still with us: Chloe, Tori, Sadie, Jazzi
Jazzi and Samson NURSERY Dec.26, 2020
2 thriving puppies: a male and female (both sold)
Going home Feb. 20th​
Below on left side we will add p
hotos of puppies as they grow
Jazzie is a golden color but carries the gens for
chocolate puppies (Akc Liver)..she is so sweet and petite..watching that belly grow!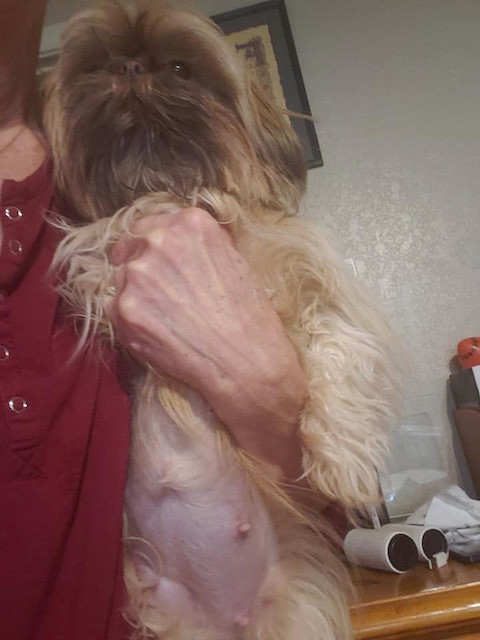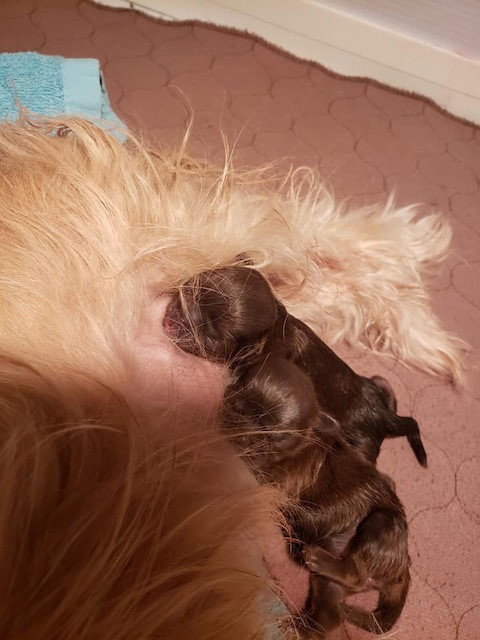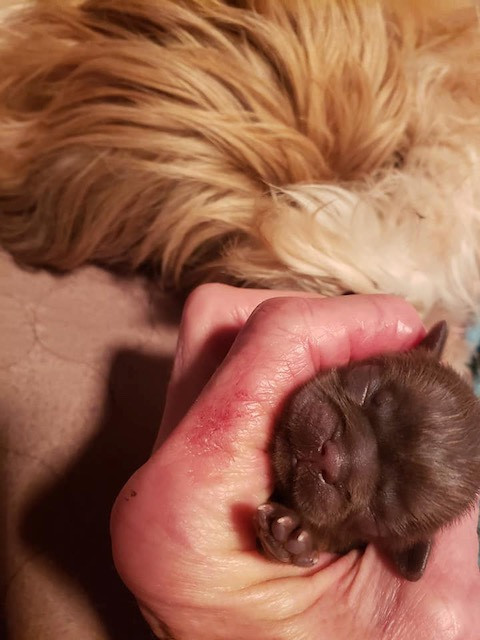 First Female:Lori P.
​
First Male​​: Bell N.
Weight Chart: Healthy Puppies about double their birthweight by ​7-10
days
27th 28 29 30 31 1/1 1/2
DOB: 12-26-20

Day1 Day 2 Day3 Day 4 Day 5 Day 6 Day 7


​Female: 4.1 4.4 4.6 4.8 6.2 7.8 8.1 8.6
Male:​​​ 4.4 4.8 5.3 5.6 6.9 8.3 8.7 9.2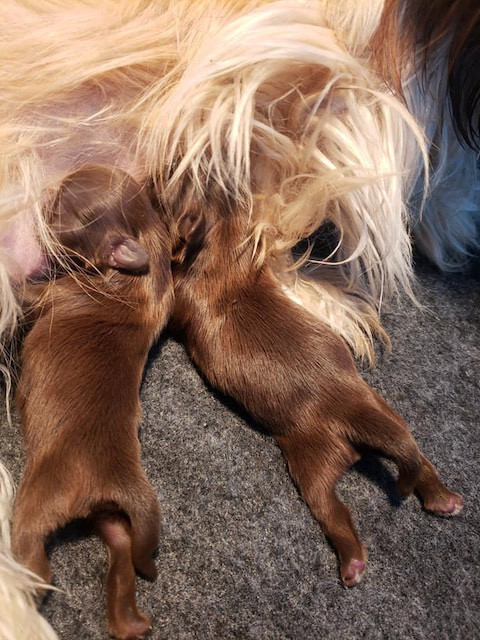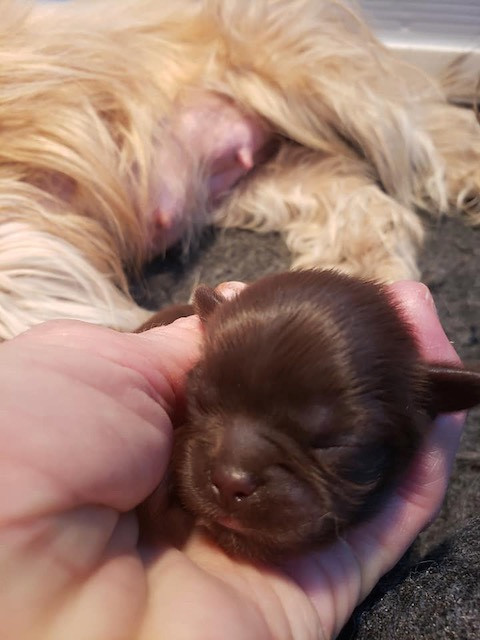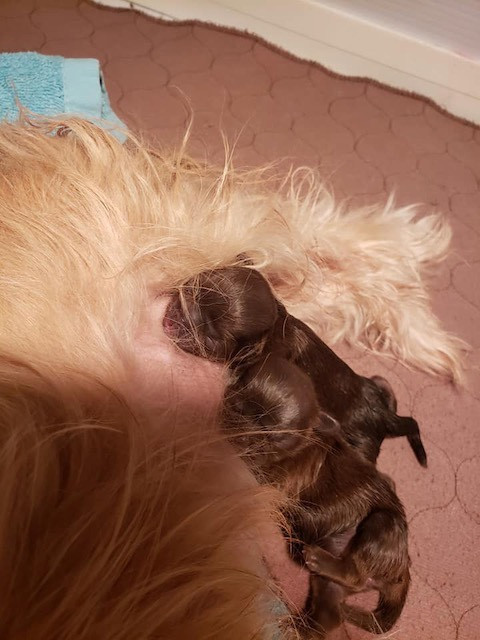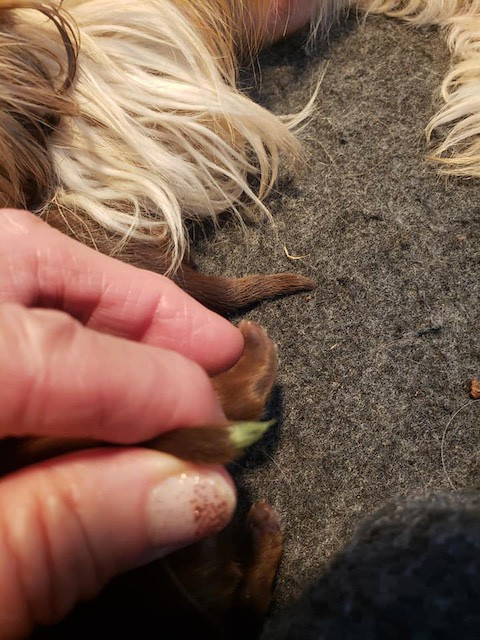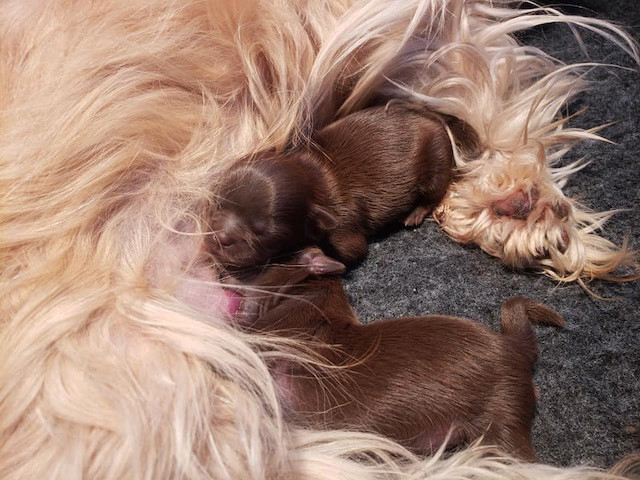 Day 3: I painted male
tail tip for easy Identification for nursing and sleeping photos
(female has plain tail tip)​ Click HERE for FB video after Bookmarking or saving this page to your Favorites


Day 6: Too cute! ​​​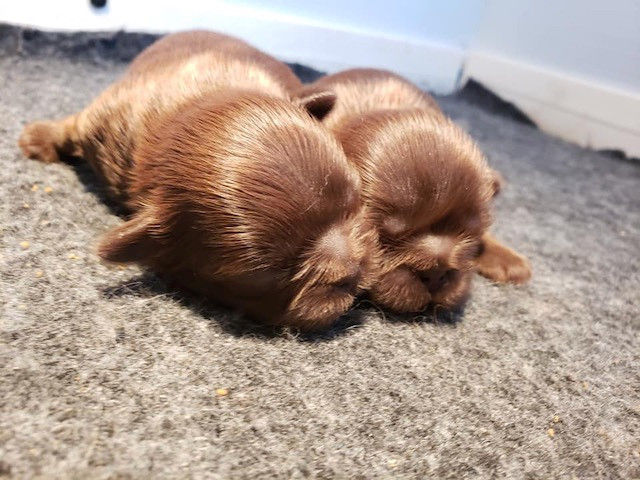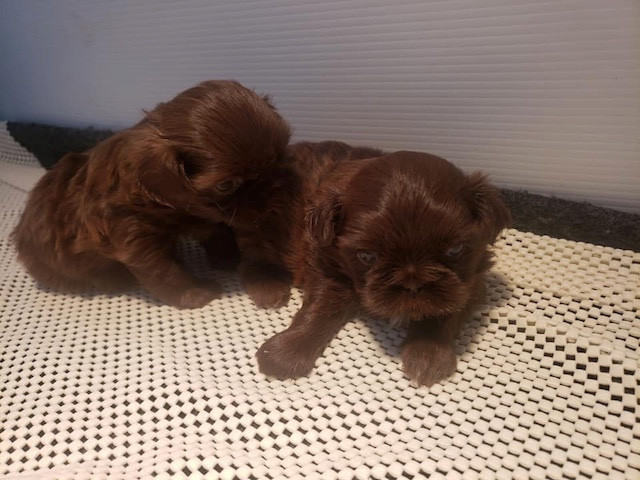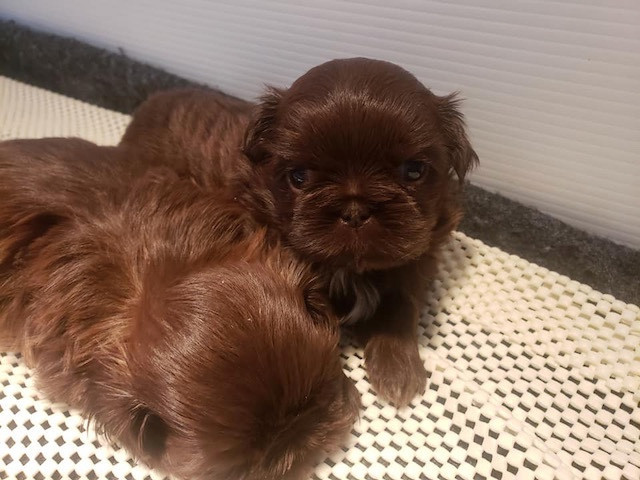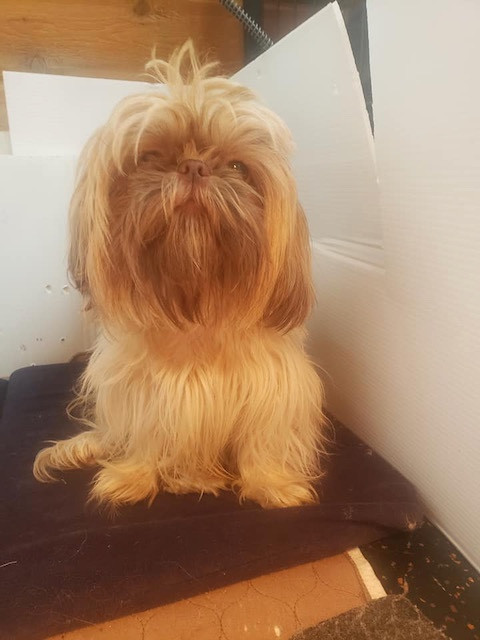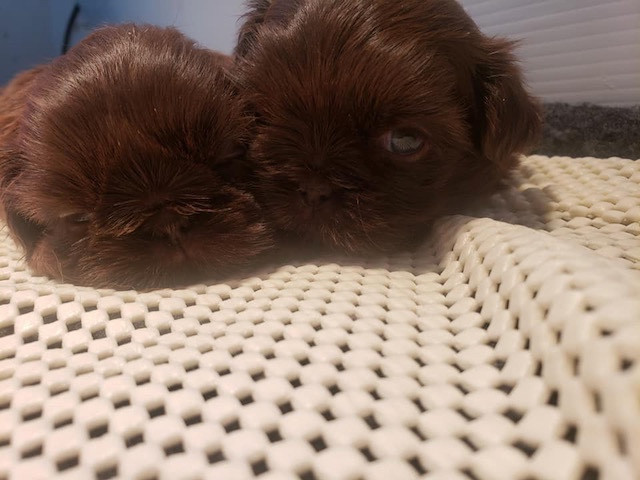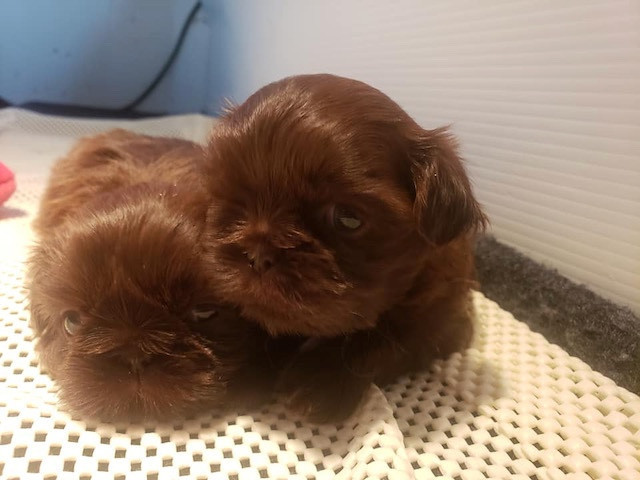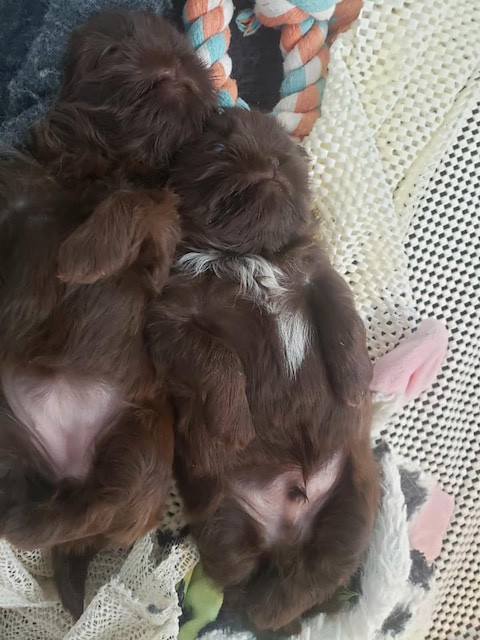 Lori's "Aspyn" and Bell's "Mahler" (white on chest) 4 weeks
Click

HERE

for Aspyn and Mahler FB album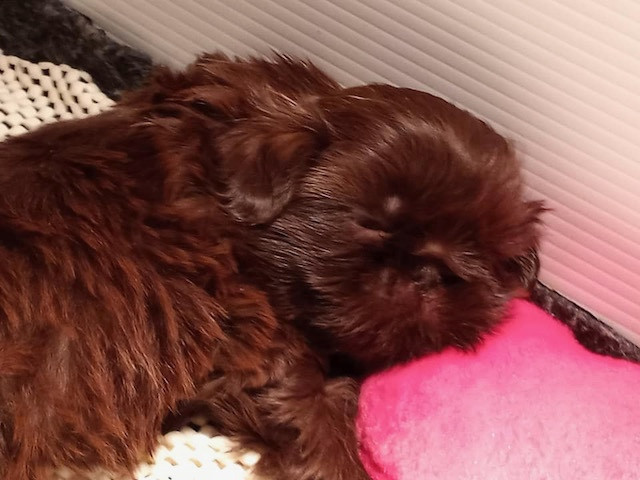 Aspen
found a pillow all by herself!
Click HERE for more 4-5 week FB photos​