AKC Shih Tzu Puppy Sale


(817) 291-8007

call or text



Contact Email: ceciliadiane@hotmail.com​​
To Receive Breeding & ​Photo Updates
​Register your email by sending a request to get our puppy updates







​​​​​​​​Let Christ Reign in Your Heart! He Lives!
About Sophie (Rosita) and Her Family with Photos:
​Click HERE for Quick Reference to Sophie and our other two Breeding females
"Hey, that's me as a cute baby(right)! Sophia Rose 3-16-17 (above)
June 2017 Sophie 10 months
Sophie (aprox March 2021) Litter: Sophie/Samson
​Last litter: then spay! Sophie is due March 25, 2021
Sophie's and Yogi's line continue in Sophie daughters: Jazzie and Sadie..first litters 2020 Winter, please scroll down​

​First Female: Gwen F​ (dep. transfered)
Second Female: Ayden R
​
Third female: Cecilia H
​

​
First Male:
Kevin D.
​
Second Male:
Pamela B.


​​Non dep male:​
Christy I.
Ashleigh Z.​
Diana P.​
Day 2 DOB:)ct.9,2020
For more info click on NURSERY​​
Summer 2021 Sophie will retire to Lori's mom Gay P. after her last litter, after spay and teeth cleaned!
For AVAILABLE Puppies/Wait list:


​​We no longer hobby Breed, I am retired,
​so please click

HERE

for our

small List of trusted AKC Breeders that have our lines and dogs. There are still good Breeders in different areas of our great Country. Please get referrals when looking for a puppy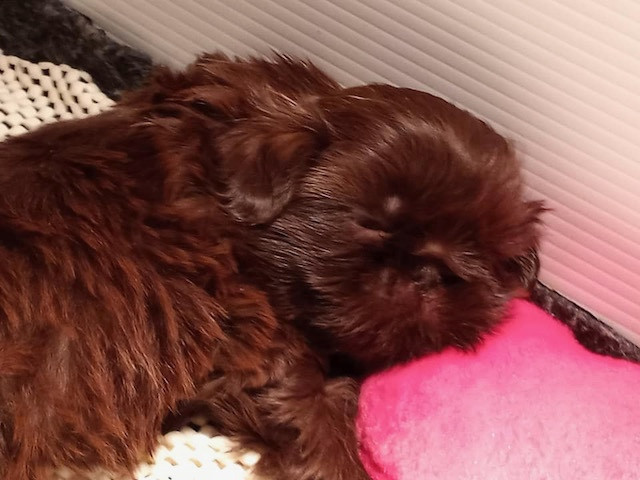 Scroll down if you are on our final Litter (full) not accepting further deposits


Hello Friends!

Thank you for the many comments and responses to my letter announcing my retirement. It came a little sooner than expected.
​​I have been blessed with so many special people in my life because of my Shih Tzu hobby and passion for people and for shih tzu breeding and raising. I'll treasure many memories as I go forward into my retirement phase. It is with a heavy heart that I say so long to my online Shih Tzu breeding and family as of March.Chloe, Sadie, and Tori will continue to breed in their homes. Sadie and Chloe are already homed in Texas with Sylvia Allen in the loving home of Shih Tzu Pizazz Facebook. Samson has gone to an anonymous home and will be loved for what he does best! Tori is also going to an anonymous home with Jazzi's sweet lil pup Mahler. I've been given permission to send those that I feel would be a good fit. Two small reputable Breeders I've supplied my line to that have puppies coming are Carma of Steele's Smokey Mountain Brown Shih Tzu FB (see her website info there) in Tennessee for those in North Carolina and South Caroline and those willing to use a pet nanny. For Arkansas and Texas, Akc Limited pet buyers are urged to contact Furrytails Shih-Tzu by Gwen McKenzie Fitzgerald on Facebook with upcoming puppies out of my lines. Please don't contact me for answers to details that those breeders can answer easily. Just go to my website and look for my referral page and reach out please! Spots will fill up quickly.
All of my refundable deposits are either in the mail or have already been returned through Venmo to those with future deposits on my previously planned puppies.
I like to honor the wishes of my customers, both small Breeders and pet buyers. The two puppies you were watching on Facebook went home by Feb. 20, 2021. For my small breeder customers, please go get any photos, pedigrees, and information relating to your lines from me, eventually my website will come down, depending on how often I am still contacted for puppies.
I have already spoken to several of you on the phone. I believe the Lord has prepared me mentally and emotionally for the changes in my daily life that will come as I am looking forward to more relaxing moments with the few dogs I will keep here. Jazzie will be spayed and is my youngest companion. Belle is 6 and retired and will either stay or be shared with my youngest child away at college. Zoey, now 9 years old is my emotional support dog that was there in the past and present for much comfort when my son, Austin passed to Heaven. He asked me for her before he left this earth and I gave him half of her, which is why I hold her so close. We are coming up on 9 years on Feb. 12, 2021 and Zoey still puts her head on my shoulder to let me know she is half his and I still find comfort as I continue to grieve my loss as I miss my son so much..but Heaven has taken on more meaning knowing he is in it. I have my enduring hope in Christ, grounded in God's Word, that comforts me. I know , without a doubt , I will see Austin again when I have a reunion in Heaven to look forward to someday when the Lord sees fit to take me home to Him and my loved ones. In the meantime, I am super excited to have time with my daughters and my grandson Ayden. I am already thinking about trips to Colorado and Kentucky after I recover from my next rotator cuff surgery Feb. 24th.
I have a close friend and customer that has 5 of my Shih Tzu as pets, and she says that I am moving forward so easily. Well, that is how it seemed to work with me after I first struggled in my flesh with a decision to stop breeding, then surrendered to continue Breeding through 2023, and just gave it all to my Lord and Savior Jesus Christ. Next thing, He clearly showed me I must stop breeding NOW. If there is anything, I have learned in years of being strong willed and many times resulting in unfruitful consequences, it's to OBEY HIM. He can see far far ahead of what we can see and he loves and looks out for His children. If you haven't accepted him as your own personal Savior, I hope you will seek Him in His Word and do so, as He does have the final say. He is a God of Mercy, who died on the cross, shed His blood for our sins and then rose again in Victory!
"For by grace are ye saved through faith; and that not of yourselves: it is the gift of God:" Eph 2:8a
Thank you for your understanding everyone!

​Love in Christ,