AKC Shih Tzu Puppy Sale
(817) 291-8007
Just 20 min. from Downtown Fort Worth,Tx. 76131


To Be added to our

Email Updates

please join our previous website as a free member by signing in with your email address, we will approve the request. Here is the LINK:
​Click HERE
If you have any difficulty you can email us at our email address and request us to invite you..it's simple and assures you receive our latest photos and updates
Holland Shih Tzu located in Aledo Tx. 76008
near Ft. Worth, Tx.​
​​​​​AKCliverbrownshihtzu.com
​
BEST WAY TO REACH US ABOUT AN UPCOMING PUPPY:
​ Email
: ceciliadiane@hotmail.com
Phone
: 817 291-8007​ call or text
To see our Facebook Puppy Albums click on Cecilia Holland​
Please add us to your Favorites or Bookmark this page before clicking on links below that take you to my other sites:​​
Currently we have positions available on 2018-2021
litters planned for male and female puppies, call for availability before sending deposit to reserve a puppy. We have 3 breeding female and 2 males before we retire. You can see Belle and Yogi's nd Sophie/Yogi Nurseries to get an idea of what our future puppies will look like! Chloe is Belle and Yogi's daughter and we will breed her to our Samson..Please see Sophie Samson Nursery to see his offspring and get an idea of what Chloe puppies may look like.
For information about us and to get numerous photos when puppies arrive, please text to (817)291-8007 or email us ceciliadiane@hotmail.com and type in "request to be added to our Puppy Updates". We will respond that we received your request and add you to our email updates.They come daily when puppies are here and growing. Our customers out of State love to watch them up until their 8 week birthday when they go home. We show you them being socialized and trained or transitioned to puppy food and potty patch.
You will get ​our B
reeding Updates and Photo updates by email (we will notify you when puppies are due, when they arrive and when photos of them have been posted).​​
​ W
e guarantee we will post more photos than any other Breeder, to make your experience of buying a puppy from us a great one!
Please review our customer comment page and our Facebook reviews; we have many return
customers.​​ It's recommended you look at our Available Pups page to see all planned litters then contact us by phone to give us "where " you wish to be placed on waitlists (for example" male puppy on Chloe Samson 2019 and 2020.As you see early deposits are placed in advance as our puppies are
​ in demand and several past customers are planning to get another pup. Note that things change over time and even people down on the list eventually get a pup as sometimes those in front of them "pass" and everyone on the list moves up. Also when someone is on several lists and when they get a pup and it goes home, their name is removed from all the duplicate positions it was in and lists grow shorter. Ive seen as many as 5 on a waiting lists get their puppy.
​
​
​Photos are posted on the site
​you are on now and Facebook.
​​
​
​​
If you are out of the area, you and your famiy can watch your puppy grow! We photograph Puppies firsts: eyes opening, walking, socializing, food, etc..great fun for the children too!! Please Browse our site and get an idea of what you will see when you have a deposit on a puppy with us.
In addition, we gladly send text photos when possible​​.
Just give us a text or call.


​

Facebook Profile
: Cecilia Holland
Facebook Breeder Page
​​​http://www.facebook.com/AkcLiverBrownShihTzuPuppies

​ Snow (female) sold Cuda (male ) sold Charming (male) sold

One of our Facebook watchers said...Look! "a herd of tiny shih tzus!" Valentines 2013

Our Retired Ami (above)Zoey's Grandma

.Ginger, Cocoa, and Zoey are related to her (daughters and granddaughter) and we believe much of their sweetness is due to Ami's very sweet laid back temperament
Ginger (Retired and Rehomed)
Zoey's Sister​
Lady Rose now: Last litter was 2016 (retired to Windsor Family sharing her time in England and USA with British Royal family
Bought back her 1 female puppy (Rosita) calling her Sophie, ours at 7m (March 2017)and
breeding
2018-2021
Come see our waitlist and choose where you would like to be added. If you see the word "Available" you may place a deposit.
​ Available Pups/Waitlist

Zoey Our Lavendar Akc Liver Female (last litter 2016...now retired to us)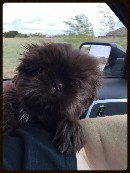 Yogi/Belle Furbaby DOB:6/2016