Welcome To
AKCliverbrownshihtzu.com
​ AKC Shih Tzu Puppy Sale
(817)291-8007​
Small HOBBY Breeder: Cecilia Holland
We produce AKC Liver Puppies​
​. All our puppies ship with United Petsafe. We have had only 1 breeding female and then we bought back Rosita (now Sophie) and kept Chloe from a Yogi/Belle litter. We have Yogi litters coming end of December and early January.
​Samson is our newest stud.
​
Before we retire in 2021,
we have Planned litters from our upcoming breeding
3 females (Belle, Chloe, and Sophie) and 2 males (Yogi and Samson):
​
2017: Akc Female
Belle​ bred to AkcYogi
(left)
​They produce
Dark & Medium Chocolate
Puppies DOB:Jan.3. 20178
​
For reservation:click
Available Pups
waitlist

​
positions for Belle and Yogi planned puppies in litters 2018-19. Belle retires 2019.
Akc Sophie (Rosita) bred to Akc Yogi first litter born Dec. 29, 2017 All 3 pups were
pressed..see Nursery page for photos clickHERE
​Next litter planned will be with our newest boy Samson
​
Sophie & dark Liver Akc stud Samson 2018
From either male, we are Expecting Akc Liver and possibly Liver and white.
Estimating Dark Chocolate, Cherry Chocolate when bred to Yogi and Samson

​
Akc Chloe and Akc Samson litters planned aprox. May 2018-2021
Chloe is Belle and Yogi daughter born in Dec. 15, 2016 litter. We expect beautiful dark and med. chocolate Puppies Her ​​First litter planned Summer 2018
​If interested in reserving a Chloe/Samson or Yogi/Sophie puppy please find open position and call us for mailing instruction. $100 deposit goes toward total and holds position for puppy in order of deposit.​​
​

​


www.AKCliverbrownshihtzu.com



​AKCLiverBrownShihTzu is Our

Current Active WEBSITE

Where we now add all our latest
photos and updates.
.We take loads and loads of Pictures because this is our Hobby and we know that people LOVE looking at Puppies that we LOVE taking photos of!
​Our previous litters are on these pages: whether it be "Our Family" page or "Past Puppies" you will see us actually socializing, bathing, Potty training, Deworming,Vet visits for complete health check, and more! See Customers happy and making comments when they send us photographs after their puppy is in their home..please feel free to browse the pages and see! We also have puppy info that can help you with your new puppy..we love to share what works for us!
​​​IMPORTANT Note: I add Photos weekly and sometimes daily so you and your family can watch your puppies grow while online! We love our babies and we love to provide the best home for them until you get them..then we give support anytime needed!
​
​
See our Past Puppy photos with our past stud: Alamo on "Past AKC Puppies"link left and above.
​ For Zoey's background go back
even further and see our puppies from our previous stud, Cashew (Zoey's Sire).
​To see our litters previous to Jan. 2012, Please go to our​ Gallery where you will
find loads of photos and much much more information on our previous site:
c
eciliadiane.webs.com
where you can also add yourself as a new member free..and receive ALL our email updates before Puppies are born and after..get notified each time we post photo albums of your puppies getting ready for the time they will come home. We gradually wean them and show you each step of the way, how we help prepare your pup for your home. Please look for our future breeding plans all shown on the Avail Pups/Waitlistpage where you can see upcoming planned litters and request to be added to our waitlist after you find the right timing or spot for your needs!. We just breed a few dogs a year and have people return for puppies, placing early deposits. Look for the word "available in gold in advance to see whats still available, before you call to reserve a puppy from us OR call me to get on the computer at the same time with you to find what fits into your plans. I'm here to help navigate the page and answer questions..
​
Please bookmark or save this site in your FAVORITES, before you leave our site. Our page links are
found in on our navigation Bar at the top of every page . Also throughout our pages hyperlinks in BLUE were created for your convenience to take you to Nurseries to view past puppies in our Shih Tzu lines. Our pages have grown more numerous so we have some to the left of each page, nevertheless, they are not any less educational or informative as to what we provide in our hobby of Breeding Shih Tzus for sweet sweet puppies! Also you might be instructed to click on a photo for more photos or as a way to direct you to a page that gives further light to a subject we discuss related to the care of your puppy. We hope you find our site friendly and informative . We welcome your feedback, if something doesn't look technically right or if you have any questions about our Shih Tzu, please contact us. No question is too small. Please see "Our Family" page to give you a visual of each person in or family that takes an active part in caring for puppies. We believe you will find our puppies are "different" as many of our customers describe the results of our daily socializing of them. We believe socializing your puppy is just as important as feeding them! We want you to have a puppy that is calm and relaxed in the arms of humans, yet playful when on the ground with or without other pets. We even have tips on introducing your pets to one another for the best success with your new family member
! Breeder/Health Tips
Please Visit Each of ​Our Pages

to Learn more about Us. Upper left corner you will find Links to pages
​We strive to ​produce for you a ​well ​socialized pet for your ​​family ​to love..Giving ​
​the​ Best possible ​start to ​your best friend​​​! Below you will see some of our photos of past parents and puppies
Just Click on the photo of our Grandson, Ayden (right), to see Our Family & more Puppy Love!
Please Fill in and submit Form below to reach us by email
When Puppies are born and as they grow, we add Albums to Facebook OFTEN.
Your Puppy Albums will be added and afterwards Photo links being sent to You through our email Blasts.from our previous website (has email feature).To receive photo links please register as a free member, click on:

​www.ceciliadiane.webs.com



Saving the BEST Photo for Last..Ayden, our Grandson.
<><><><><><><><><><><><><><><><><><><><><><><><><><><><><><><><><><><>><><><><><><><><><><>


ALL Page Links at Upper left in Blue and some are at top
2/2015...after all these years, Ayden age 5 still loves to hold puppies! Ayden holding Belle, then Blossom, then Ariel (Ginger)
Ayden's Mom,
​my daughter, Jennifer
​also finds joy in loving
​on a puppy!
Click HERE to see more photos of Belle and Blossom (9 weeks) with Ayden
Akc Liver Stud Yogi 2016-19
Shih Tzu By Holland
...Home of Chocolate SHIH TZU PUPPIES
​
​all Akc Liver Shih Tzu​ ​ Puppies​​ to LOVE!
SEE AVAILABLE POSITIONS with or without deposit
​BY Clicking HEREand scrolling down, When you find the pair
​ you are wanting for your puppy parents, please call..they book quickly
Zoey and Blaze: 6 Pups came August 12, 2016. They went home and Zoey retired here as our sweet pet.
Sophie's Dam(Rosie above) and Sire(left) : Rosie and Blaze..last litter was August 2016.On October 20, 2016 Rosie began her Royal retirement to the wonderful Windsor Family and will spend her time with them in Santa Barbara and the U.K...her baby went to Jason but she was offered back to us in March 2017 and we got her back!!Naming her Sophie.. Love that girl! First litter due Dec. 30, 2017!! Click HERE to see positions for early deposit to hold one of her puppies.
​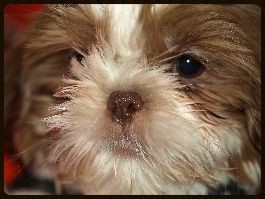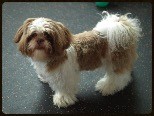 Sophie's (Rosita)Sire: Blaze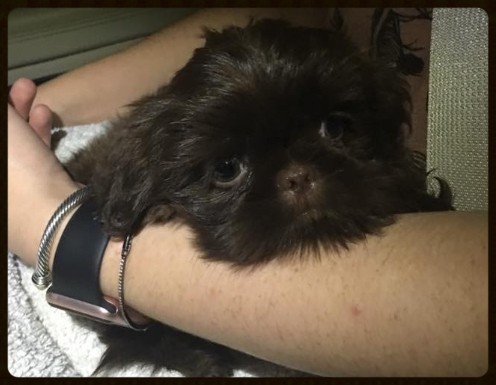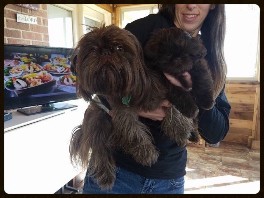 Yogi and daughter Chloe 2/2017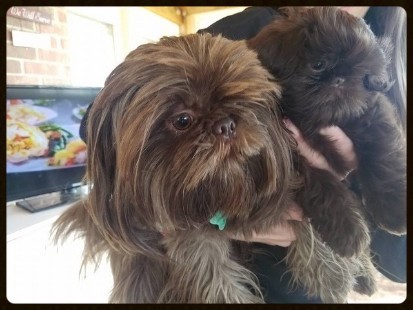 Belles Mom and Aunt
​Chloe's Grandma and great Aunts shown when they were also
puppies. We do this because your puppy from either Belle or Chloe will have similar features with the nearest relatives!! If you like the way they look, you will like the way your puppy will look!!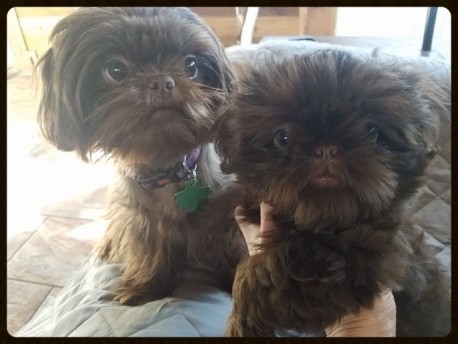 2/2017 Belle and Chloe..our future Belle/Yogi pups will look
like Chloe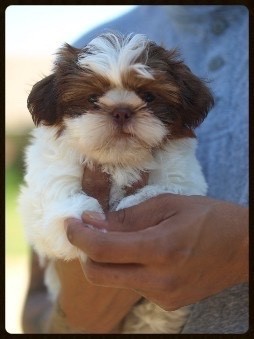 Rosita (now Sophie) DOB: Aug. 7, 2016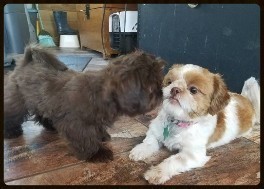 Belle's daughter Chloe and Sophie
playing 3-20-17